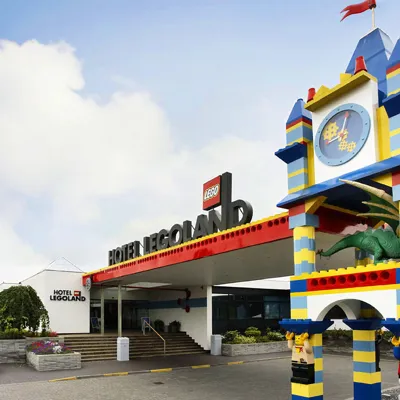 The story of LEGOLAND® Hotel & Conference
It all started with a little wooden brick, and then there were more, then came plastic bricks, and finally an entire LEGO® toy factory. The name LEGO is a contraction of the words LEg GOdt ("play well"). Later an airport was built, Billund Airport, then an amusement park, LEGOLAND®, and after that a hotel. And suddenly things started happening very fast. 
The hotel was established in 1968 under the name Esso Motor Hotel. The LEGOLAND park was opened the same year. In 1974 the hotel was bought by the LEGO Group and was given the name Vis-a-Vis – and then Hotel LEGOLAND in 1991. 
During the first 8 years, LEGOLAND Hotel & Conference doubled its accommodation capacity from 32 to 64 rooms. And in 1986 the hotel got 6 new meeting rooms and 3 new floors. It is still being expanded, and countless companies have held meetings and conferences at the hotel over the years. The hotel is now a 4-star modern hotel, and a 5-star conference centre. 
Today, the hotel comprises a large conference centre, with everything in modern AV equipment, two auditoriums, 25 conference rooms and an 1,800 m2 large Multihouse, two restaurants, and a total of 223 rooms – some of which are furnished for business clients. 
The hotel is currently part of the international Merlin Entertainments Group, which puts LEGOLAND Hotel & Conference in the same category as some of the best hotels in Europe. 
In 2005 the LEGO Group sold all four LEGOLAND parks, including the hotel, to the Merlin Entertainments Group. The LEGO Group has, however, secured 33% ownership of the LEGOLAND parks, and for this reason the LEGO themed events are a natural part of the hotel as well as the LEGOLAND park. 
Get offer
Would you like a non-binding offer for your next conference, celebration or event?