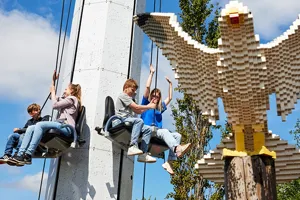 Pull!
How high can you get? And how fast? Children gain insight into themselves when they hoist themselves up by their own strength to the LEGO® Lighthouse Keeper and the spectacular view of Pirate Land and Pirate Island. Climbing down again is also fun – and a little challenging.
Buy tickets
Ride restrictions guide
Limited access for disabled guests
Minimum height 120 cm without and adult
Require the presence of an accompanying adult for children between 90-120 cm
Plan your visit
The Lighthouse is located in Pirate Land
Did you know?
Children gain insight into themselves when they hoist themselves up by their own strength