1–31 October
LEGOLAND, The entire park
For the whole family
Mysterious monsters invade LEGOLAND® for Denmark's spookiest, cosiest Halloween Monster Madness on 1–31 October. Do you dare to be part of the monster invasion?
Halloween Monster Madness
1-31 October 2023
The monsters are loose in LEGOLAND®! Come and feel the Halloween spirit with colourful lighting, spooky Halloween decorations, scarily big LEGO® models and Halloween rides that whizz through the dark! Get goose bumps on Monster Street with an all-new 4D monster movie and learn new monster tricks at Scary School. Visit Monster Mansion, where you can become a real monster and walk the famous Brick or Treat trail around the park. Use your wildest imagination to create LEGO monsters and to build LEGO pumpkins. Stay until the bitter end and help chase the monsters home when the monster party ends with a boo and a bang with a monster parade and spectacular fireworks show.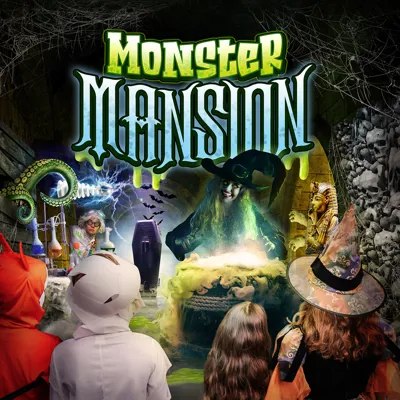 Explore Monster Mansion
Every Saturday in Oct. and from 15-22 Oct.
At the entrance of Monster Mansion, the evil witch stands guard with her bubbling cauldron. She will bring you into a secret monster world where you'll have to convince the monsters that you are also a real monster. But if you don't succeed, the witch turns you into monster mash! ​
The experience has been specially designed by the horror experts from DYSTOPIA Entertainment, who have scared over 100,000 souls across the country since 2014. Through a collaboration with Recreational Fear Lab at Aarhus University, the experience is based on horror research and psychological studies.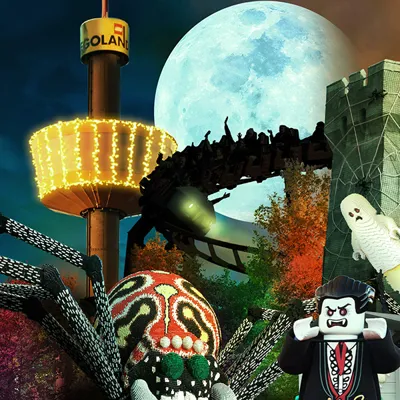 Ride in the Dark
Every Saturday in Oct. 
Laugh, spin and rush of in the dark in selected Halloween-dressed rides until 7 PM. But be careful! In the dark, many spooky surprises await when you least expect them.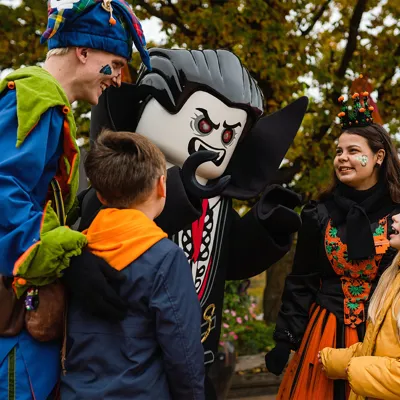 Get scared on Monster Street
Follow the monsters' sticky footsteps along Monster Street where you can...
see, hear and feel the brand new 4D film: "The Great Monster Chase" in LEGO® Studios
enter Monster Cave and learn how to become a real monster at Scary School (Every Saturday in Oct. and from 15-22 Oct.) and meet the scary LEGO Halloween characters

Lord 

Vampire

, Frankenstein

 and

the Mummy for Monster Meet
try to solve the digital and dangerous letter hunt in Munchy's Mystery
eat a cool monster burger, make your own monster drink from slush ice and worms or snack on Halloween candy
build creepy Halloween creations with LEGO bricks in Creative Workshop
invent round, wonky and wacky pumpkins out of LEGO bricks in LEGOLAND® Gallery
buy pumpkins to take home with you and support Merlin's Magic Wand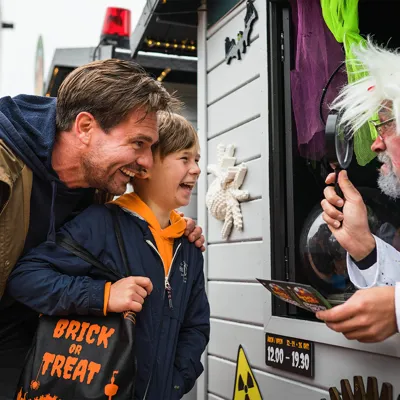 Walk the Brick or Treat trail
Every Saturday in Oct. and from 15-22 Oct.
On the Brick or Treat trail, you can meet and collect surprises from 5 different Halloween creatures who are just waiting for a scary chat with you. Psst! There is a risk of candy fright.
Order Brick or Treat bags for DKK 60 per child
Buy from home to make sure you get your bag
Limited quantity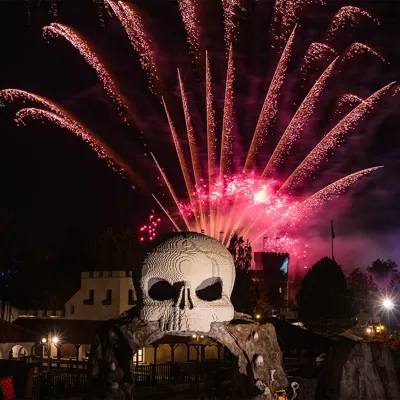 Chase the monsters home with a parade and fireworks
30 Oct.
Halloween Monster Madness ends in style. When darkness starts to falls, you may experience...
an epic Halloween parade where the LEGOLAND® Billund Guard Marching Band plays spOoOoky Halloween Music and gruesome LEGO® characters walk around the park
a monster party fireworks show, which lights up the park and helps LEGOLAND chase all the mysterious monsters home to bed