New in 2023: Europe's first LEGO® Ferrari building attraction
The new stylish LEGO® Ferrari is inspired by the world's most luxurious sports car brand, Ferrari. Use your creativity and imagination to build, test and drive your own LEGO Ferrari.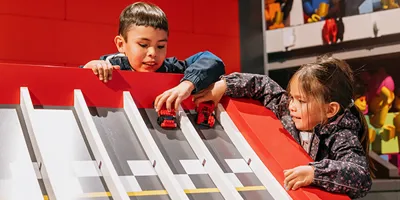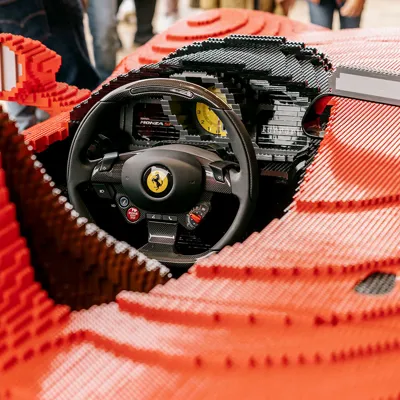 Experience the world's first 1:1 LEGO® Ferrari Monza SP1
Be blown away when you meet the impressive LEGO® Ferrari Monza SP1 built to full size - the first of its kind in the world. Inspect all the beautiful details and take a cool photo with it.
Explore the interactive zones
Explore the interactive zones where you can test your engine power and optimize your racing:
Build your very own LEGO® Ferrari racing car and race with the family on the wild obstacle courses. Will it lead to a podium place and the title of the family's coolest racing driver?
Create a LEGO Ferrari racing car, which is scanned and then enters a digital version of the 'Pista di Fiorano', which is Ferrari's test track, primarily used to develop and test new Ferrari models. Are you playful enough to overcome all the sharp turns?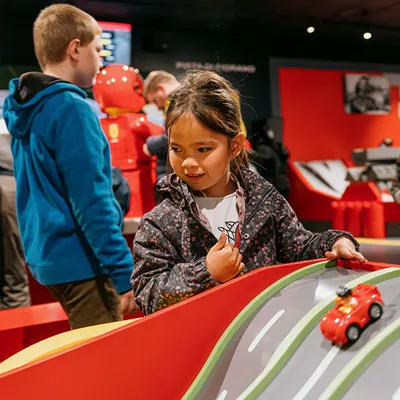 Race track for the little ones
Let the little ones give it a go in the inspiring LEGO® DUPLO® Ferrari building area. Here, small ideas can turn into big wheel spins on the associated race track at child height. Fastest racing car wins!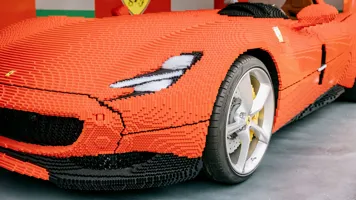 What does it look like when 383,610 LEGO bricks turn into a 1:1 version of a Ferrari Monza SP1?!
You can see that in the video right here, where the cool model builders, after 1414 hours, were able to present our awesome LEGO Ferrari car weighing a whopping 1340 kg