We look out for each other
A safe experience at LEGOLAND®
At LEGOLAND®, we do a lot to ensure that your experience with us is safe and not least fun, so we have launched a series of initiatives to protect you from corona when you visit us.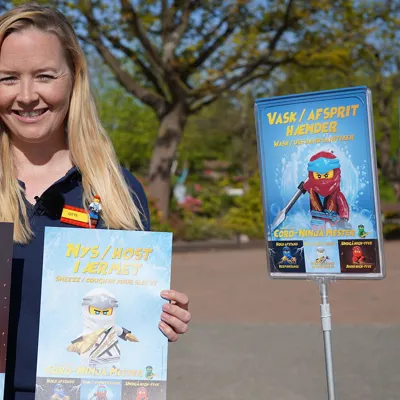 A safe, secure and fun visit in LEGOLAND
LEGOLAND is open again, and we are very much looking forward to seeing you again! It should be a safe and secure experience for guests and employees to go to LEGOLAND. That is why we have taken a number of measures to protect all of us in the best possible way against the coronavirus infection; you can read more about these measures here on the page. 
You do no longer have to book your visit in advance, but we recommend you to buy your ticket on our website to avoid queue at the ticket booths.
It's NOT necessary to book your visit in advance if you have Season Pass, free tickets or vouchers.
Buy ticket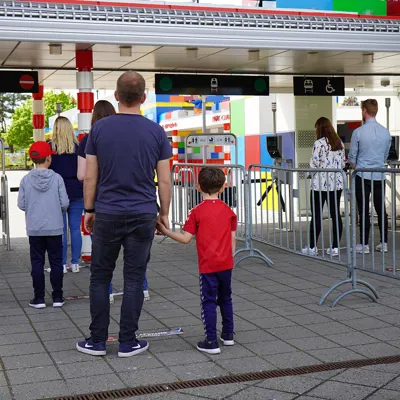 Main guidelines
We have compiled the six most important things of which our guests need to be aware.
You can read about all our measures and guidelines under "FAQs" below.
Do not visit LEGOLAND if you are ill or show symptoms of coronavirus.
You have to wear face masks when entering our restaurants in LEGOLAND and at our accommodations. The face masks can be removed when you are sitting at the table and starts to eat. Children age 0-12 are exempt from wearing a mask.
Buy your ticket in advance. There are restrictions on how many we let into LEGOLAND.
Keep your distance to other guests and follow the instructions of our staff.
Use hand sanitizer at rides, toilets, and restaurants.
As far as possible avoid paying with cash.