Lessons in the Traffic School
2nd-6th grade (6-13 years)
Duration approx. 20 minutes
Max. 25 pupils per lesson
Price: DKK 50 per person
In the Renault Traffic School, pupils in the 2nd-6th grade can get their first driver's license. The lesson is divided into a theoretical and a practical part. In the theoretical part, the pupils are introduced to a relevant representative cross section of traffic signs and they learn how to relate to traffic.
What does the give way line (shark's teeth) mean?
How to position yourself on the road if you want to turn right?
What to pay attention to if you want to turn left at a traffic light?
How to drive in a roundabout?
After the theoretical lesson, the pupils drive in real electric cars on a track with, among other things, road signs, roundabout, petrol station and car wash. Along the way, the instructor comments on the pupils' behaviour to increase their ability to judge the dangers in traffic. The purpose is for the pupils to achieve security when being in traffic and to gain knowledge of the dangers they face in traffic - even when on bicycle or on foot.
Conditions
Lessons can only be booked with simultaneous purchase of school tickets at DKK 149 per pupil.
We request that at least 1 teacher accompanies the pupils at the lesson.
Cancellations of lessons later than 2 days prior to arrival or no-show at lessons will be invoiced at full price.
By pre-ordering school lessons for the Renault Traffic School, discounts are granted for school classes.
Book now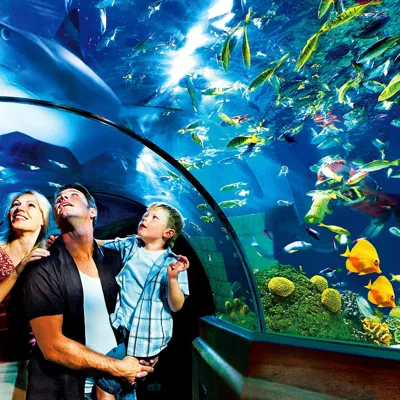 Lessons in Atlantis
All tours are adapted to the children's age and competences.
0th-10th grade
Duration approx. 45 minutes
Min. 8 and up to 15 pupils (including teacher)
If you are more than 15 people in the class, you can be divided into teams at 11 a.m. or 1 p.m.
Fixed times for lessons at 11 a.m. or 1 p.m. every Tuesday and Thursday
Price: DKK 20 per person
The lesson at ATLANTIS by SEALIFE™ gives the children a great insight into life below the surface of the sea. They can learn about tropical fish, graceful cownose rays, moray eels and dangerous sharks.
Join an Atlantis zookeeper on a tour below the surface of the ocean and listen to all the fun stories about seahorses, sharks, rays and other beautiful animals in the Atlantis Aquariums. We can talk about topics like adaptation, behaviour and camouflage.
If possible on the day of the visit, you will be invited behind the scenes in the aquarium, where, among other things, we will tell about the working day of an aquarist or a biologist as well as take a look at the many different types of feed, which are served to our animals.
If you are working on topics that are not covered by our Atlantis tour, please feel free to contact us. We will then try to put together a programme that fits into your lesson plan.
Conditions
Lessons can only be booked with simultaneous purchase of school tickets at DKK 149 per pupil.
We request that at least 1 teacher accompanies the pupils at the lesson.
Cancellations of lessons later than 2 days prior to arrival or no-show at lessons will be invoiced at full price.
Guided tours only take place on Tuesdays and Thursdays
Book now