Meeting & Conference Packages
Get what you want. We adapt to your needs.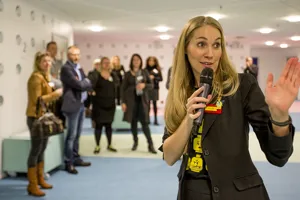 Flexible settings
Our rooms can be converted quickly, so that an intra-group conference where people work on several themes can also be held to the best effect. It also makes it easy for participants to break up into smaller groups in shared areas, where there are good facilities for holding smaller meetings or doing group exercises. 
The conference facilities also comprise two auditoriums with space for 300 and 54 persons. The large auditorium's good acoustics, architecture and AV system make it ideal for lectures and open question-and-answer sessions. 
Download our new profile and event brochure
Large or small - the size is not important
We have 25 flexible conference and group rooms of different sizes and configurations. These facilities are extremely flexible and can be converted to suit your conference theme, which can be kept throughout your event. 
See meeting rooms
Get offer
Would you like a non-binding offer for your next conference, celebration or event?