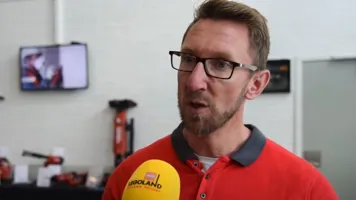 Hilti Danmark Sales Seminar
Hilti Danmark has been holding its annual conference at LEGOLAND Hotel & Conference for several years now. 
Hilti Danmark takes up the entire hotel, the conference centre and even the parking areas that are set up on the building site. The meeting rooms were used for instruction, evaluation and producing strategies, whilst staff members outside tried their strength with Hilti's products. This ensures that the sales force is able to give their customers the best advice and guidance on the products. 
Hilti have, in their own words, chosen and re-chosen LEGOLAND Hotel & Conference, because we live up to Hilti's expectations of being original and innovative. In addition, Hilti have enjoyed being able to have fun during the conference, and to give their staff the opportunity to rediscover their inner child. 
Last but not least, the staff's evaluation of the event showed 100% satisfaction. 
DANESPO A/S
Danespo held their annual meeting of 30 employees from around the country, plus Holland and Germany. 
The venue was chosen on the basis of the professional set-up that LEGOLAND Hotel & Conference´s event manager presented, the total package of delicious food and drink, the LEGOLAND national treasure, and good options of overnight accommodation. 
"We came as a company comprising several different age groups, and with several different everyday work tasks. We were met by an event manager with commitment and clarity, who, after carefully researching the business and asking the right questions from the start, was aware of what our needs and desires were for the day. We took some extremely happy employees home with us, who, although a little insecure to start with as to what they could be facing, had a very enjoyable day. The day was also praised by many employees subsequently," writes Jakob Madsen, Key Account Coordinator with Danespo A/S 
International Transport Danmark
Every other year the International Transport Denmark association chooses to hold a general meeting in addition to their regular meeting. They invite accompanying persons to attend. The expectation is that everyone's experience of the meeting breaks with the norm for an ordinary general meeting, and provides new inspiration for everyday work duties, while bonding is strengthened by fun experiences - for those accompanying too. 
"LEGOLAND Hotel & Conference has optimal conditions for holding a professional general meeting. We were not disappointed. We were greeted by smiling and very committed employees throughout our stay. Everyone was soon spell-bound by LEGOLAND Hotel & Conference and their event staff's infectious humour, as well as their ability to get everyone involved. The whole event went perfectly," says Jo Madsen, Functional Manager with International Transport Denmark. 
Tietgen School
The staff at the Tietgen School hold a meeting every year to develop a plan for the coming academic year. Apart from planning for the next academic year, they also have to form new teams of teaching staff, which requires close collaboration, and any new colleagues have to be inducted. 
"Our task was to build a ship from LEGO® bricks. We were divided into 2 teams, and we were all like kids again – down on the floor, building and playing with LEGO bricks. It was serious, but in a good way – in a fun way. All in all, we had a lovely, active day, which was finished off with a tasty lunch in the restaurant," relates Team Coordinator Michael Fjeldsted from the Tietgen School. 
CenSec
The CenSec (Center for Defence, Space and Security) and FAD (Danish Defence and Security Industries Association) held their annual conference at LEGOLAND Hotel & Conference with over 200 participants from Denmark and abroad. The choice of venue was based on a number of criteria - including the venue's accessibility, size, options of accommodation, facilities and level of professionalism.  
"CenSec's expectations in terms of the development of the whole conference were met to the full – conference conditions, accommodation, staff, food and catering were all very professional. We'd be happy to recommend LEGOLAND Hotel & Conference for such events," says Charlotte Dalqvist, Communications Officer, Center for Defence, Space and Security 
NOCOGO Congress
NOCOGO is the first Nordic congress within the area of gynaecology and obstetrics. The conference consisting of around 250 participants was held at LEGOLAND Hotel & Conference with great success. 
Nanett Mosumgaard, Research Secretary from Gynaecological Obstetrics Department D at Odense University Hospital, has the following to say about LEGOLAND Hotel & Conference: 
"I can only say one thing – seldom have I experienced so much service and willingness to change as at LEGOLAND Hotel & Conference. We never came up against a brick wall - and everything could be arranged. It was a real pleasure, and meant that I, as a practical person, didn't worry so much. I have had a great many emails just thanking me for the conference. It's not just our gain, but also the facilities and the good service at LEGOLAND Hotel & Conference that have contributed to the participants' overall impression." 
RoboBusiness Europe
The European robot conference RoboBusiness Europe was held at LEGOLAND Hotel & Conference with great success. With 370 participants from 27 different countries and 4 continents, and 60 sponsors, 40 exhibitors and 60 match-making sessions, it was a major conference, where there was time for networking, knowledge sharing and business. 
"We're so pleased that LEGOLAND Hotel & Conference has the right facilities for such an event. With participants from all over the world, it's important to choose a venue where people show consideration, cooperate and, in particular, provide good service. We believe LEGOLAND Hotel & Conference has lived up to our expectations 100%, and similarly provided the facilities and the service we needed to ensure that RoboBusiness Europe 2014 became a tremendous success."