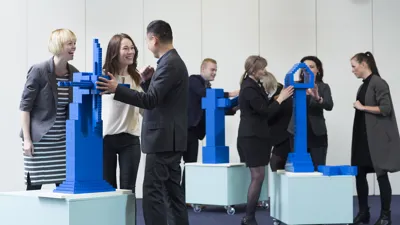 Get the bricks to fall into place
LEGO® SERIOUS PLAY® is a tool for strategy development, innovation, team-building and much more. You can use LEGO® SERIOUS PLAY® to research organisational challenges, renewal processes, strategy development, team development and much more.
LEGO® SERIOUS PLAY® is developed by the LEGO Company in partnership with leading researchers within strategy and organisational behaviour. The two professors Johan Roos and Bart Victor, with IMD in Switzerland, have carried out research with LEGO Group CEO and owner Kjeld Kirk Kristiansen into alternative strategic planning tools and systems.
Their research resulted in an adaptive tool that uses LEGO elements as three-dimensional models of business-related problems and challenges.
Among other things, the method integrates knowledge of play; why and how we play, learn and develop. This also helps us to understand how organisations develop and implement strategies, and what engages the individual participant and releases their creative potential.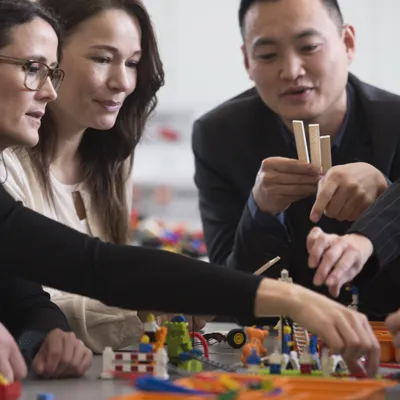 LEGO® SERIOUS PLAY® Certification
LEGOLAND Hotel & Conference, in partnership with IntHRface, offers you the chance to become a certified trainer in the LEGO® SERIOUS PLAY® method. 
This involves participational and effective business development targeted at the company's HR staff, business developers, managers and future managers, and talents. 
Get offer
Would you like a non-binding offer for your next conference, celebration or event?