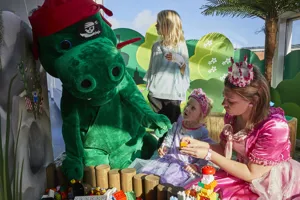 Charity for children
Merlin Entertainments Limited's special charity fund, Merlin's Magic Wand, provides fantastic experiences for seriously ill, disabled, and disadvantaged children around the world. Merlin's Magic Wand allows these children to have a great experience with their friends and family by providing tickets to one of our attractions and financial support in the form of support for travel expenses. Furthermore, we have developed a number of projects that bring magic to children, who are too sick to visit us, for example in the form of sensory rooms and specially adapted play areas in various hospitals and hospices.
On the website www.merlinsmagicwand.org you can read more about Merlin's Magic Wand, the criteria for eligibility for a donation, and how to apply.
See the collection accounts for 2018 below. Merlin's Magic Wand works directly with the children, families and organisations, who will benefit from an experience in one of our attractions. Unfortunately, we cannot provide tickets to lotteries and auctions of other charities.
Collection accounts