LEGO® themed roomes
Hotel LEGOLAND®
At the 4-star Hotel LEGOLAND®, you are living right in the middle of the world's funniest country where you can stay in cool LEGO® themed rooms.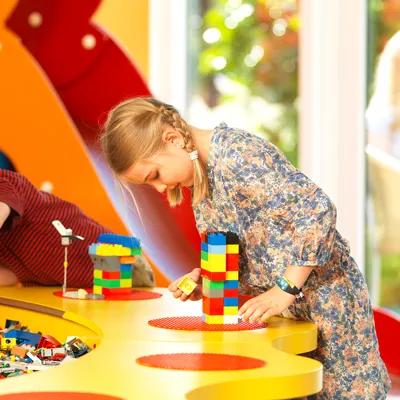 Stay in unique LEGO® surroundings
At Hotel LEGOLAND®, you stay in a magical and colourful LEGO® world right next door to LEGOLAND. In our cool LEGO-themed rooms, you'll find iconic LEGO characters that come to life and take you on adventures in your dreams. Will you join the LEGO NINJAGO® heroes in battle? Or perhaps go on a fun adventure in the wonderful world of LEGO Friends girls?
Our chefs conjure up imaginative dishes in the morning, afternoon and evening at the Panorama Restaurant and after you've eaten your fill, you can explore the LEGO Shop, play in all kinds of fun LEGO building areas, let loose in the gym or relax in the hotel's inviting lounge area.
Popular rooms
LEGO® Friends room
Time to have fun! Go to Heartlake City and visit the world's best LEGO® friends, Andrea, Mia, Olivia, Stephanie and Emma. Will you tell each other secrets before you fall asleep in Olivia's treetop house?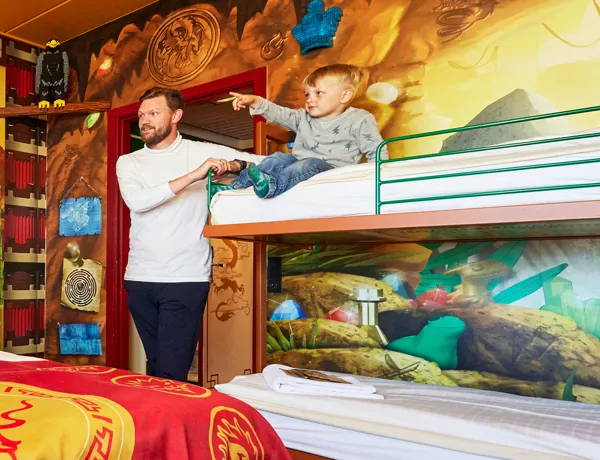 LEGO® NINJAGO® room
The ninjas are here! Sneak around like a ninja and move soundlessly through the night with your LEGO® NINJAGO® friends Cole, Nya, Kai and Lloyd.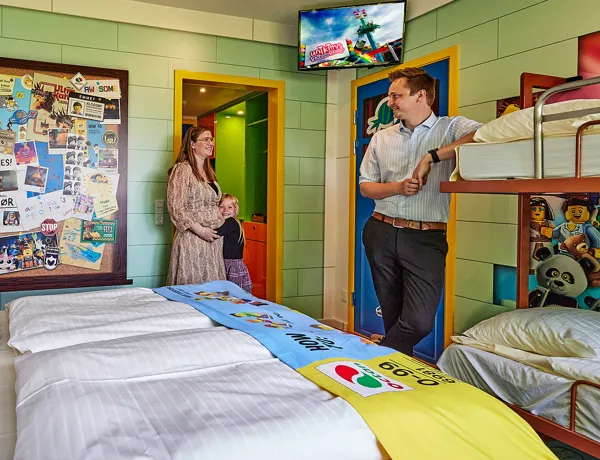 LEGO® MOVIE™ room
Master builders wanted! Fight the DUPLO® invasion with the other master builders from THE LEGO® MOVIE™ WORLD in the brand new LEGO® MOVIE™ rooms.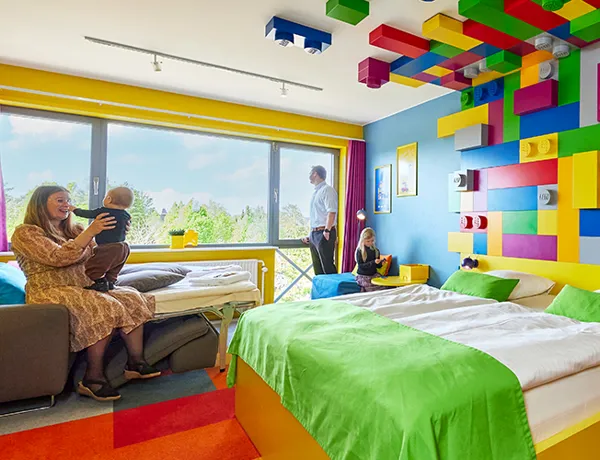 Other LEGO® rooms
Embark on a pirate cruise in a Pirate room, battle wild dragons in a Kingdom room, or enjoy the view of LEGOLAND® from a Park view room. See all our LEGO® themed rooms here.
Panorama Restaurant
The seasons burst into bloom on your plate in the Panorama Restaurant with an imaginative á la carte menu or delicious buffet for morning, lunch and evening.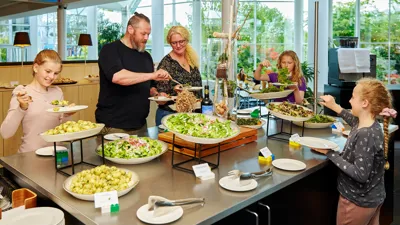 There is something in store ...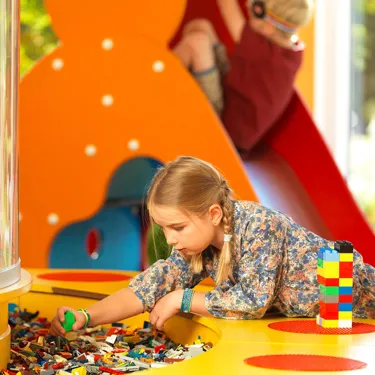 Playroom
Visit the many playrooms and unleash your imagination with all the LEGO® bricks.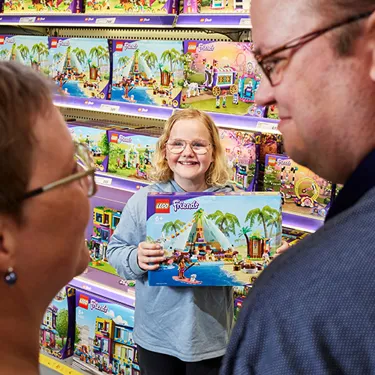 Hotel Shop
Get your fingers in LEGO® boxes and merchandise for the kids or yourself.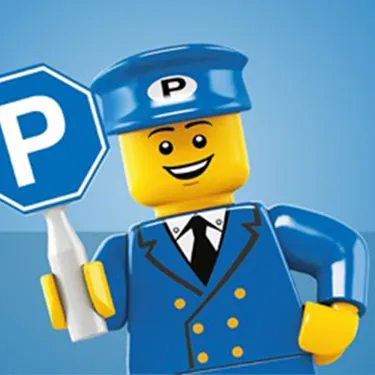 High Powered Charger
Charge your car in under an hour with our High Powered Charger with 150 kW and both DC and CCS connector.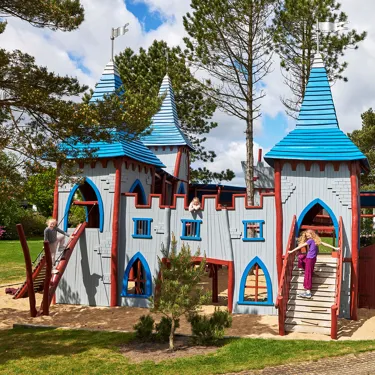 Playground
Unleash the kids on the playground and let their mirth fly free.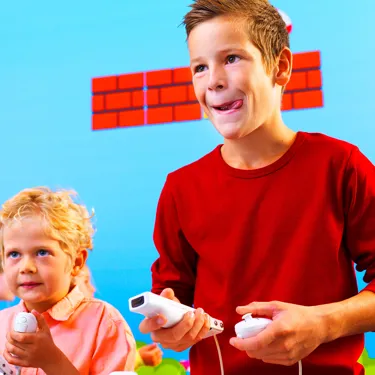 NINTENDO Game Zone
Release your inner gamer with Mario, the most popular plumber.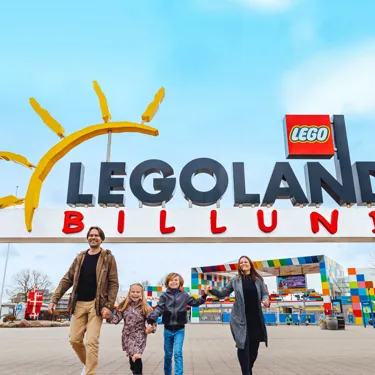 LEGOLAND® in your backyard
When you stay at Hotel LEGOLAND®, you have the most fun country in the backyard.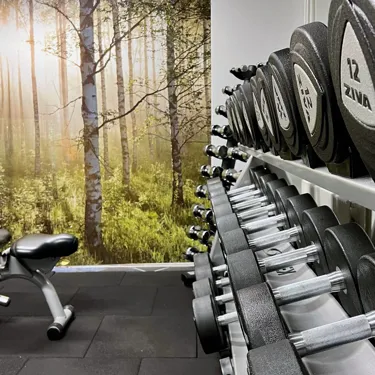 Gym
Take a trip to the gym and get your heart rate up.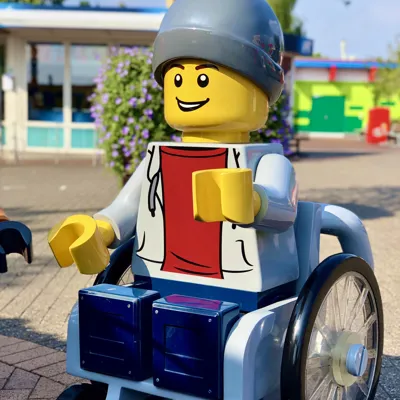 Access Denmark
Hotel LEGOLAND is an Access Denmark registered site. As a guest with special needs at one of our accommodation units, you can find detailed information with pictures of the access conditions at accessdenmark.com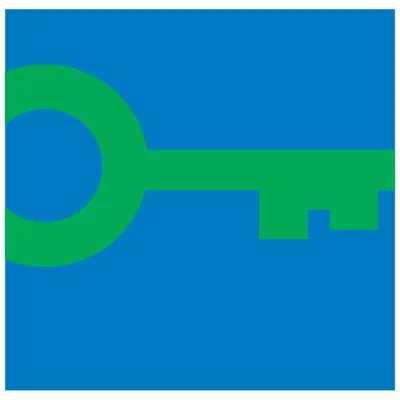 Hotel LEGOLAND® is Green Key certified
When you stay with us, you help protect the environment thanks to our Green Key certification. This means that we comply with Green Key's environmental standards, which include a special focus on ecology, waste reduction, reduced water and energy consumption and cleaning with ecolabelled products.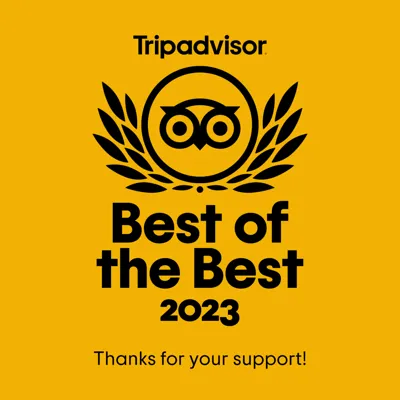 Hotel LEGOLAND® is a Travellers' Choice™ 2023 accommodation
We are pleased with our guests and our guests are pleased with us. We're proud to be have achieved Travellers' Choice™ 2023 status, putting us among the top 10% of hotels and attractions in the world that receive the best guest reviews on TripAdvisor.