Apocalypseburg Sky Battle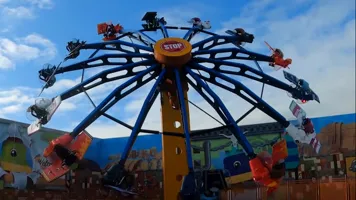 Ready for loops and 360 degrees in Apocalypseburg Sky Battle?!
Fight the DUPLO® invasion in an interactive ride where you will rise 14 meters into the air in your own plane. Fly head down, make loops and turn 360 degrees.
Ride restrictions guide
Limited access for disabled guests
Not permitted for pregnant women and guests with heart, neck, back or other health problems
Plan your visit
Apocalypseburg Sky Battle is located in THE LEGO® MOVIE™ World
Did you know? 
You control your own plane so you decide for yourself how wild your trip should be!