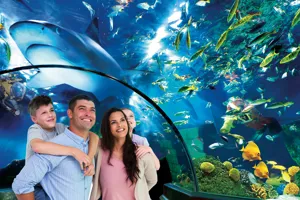 Grab your hat and swim goggles!
You will enjoy diving in to the fantastic LEGO® world beneath the surface of the sea.
In Atlantis you will go on an expedition, where brave explorers of all ages can admire shipwrecks, tropical fish and treasure chests bulging with precious stones. And don't forget the live sharks and rays!
Buy tickets
Plan your visit
Atlantis by SEA LIFE™ is located in Imagination Zone
Did you know?
Atlantis treasure is guarded by live sharks!