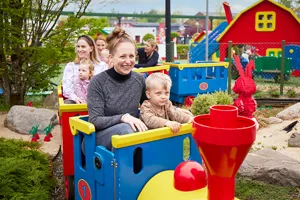 Toot, toot! Who's going to steer the train?
All aboard the train for a journey through DUPLO® Land, where everyone can see all the attractions. Aboard the steam locomotive with its four carriages, the lucky children get to drive the DUPLO® Express. A pleasure ride on an electric train that gives the smallest children a perfect experience in their very own paradise.
Buy tickets
Ride restrictions guide
Children under 90 cm must be accompanied by a responsible person
Plan your visit
DUPLO® Express is located in DUPLO® Land
Did you know?
The train is driven by electricity
Important information
Children under 90 cm must be accompanied by a responsible person

Guests are not allowed to get up during the trip

Everyone shall remain seated during the entire trip 

Guests who try for themselves must be able to sit upright without help or support