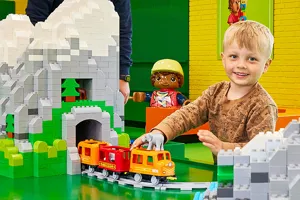 Building experiences for the youngest
Chugging engines, idyllic nature and endless possibilities: Come and let yourself loose in a world of colourful, imaginative DUPLO® bricks. This is where the joy of building takes off! Start a lifelong love of building with great experiences for little hands in the huge DUPLO FUN area.
Buy tickets
Plan your visit
DUPLO® Fun is located in Brick Street
Did you know?
A world of DUPLO® bricks is just waiting for your imagination and desire to play