Emmet's Flying Adventure - Masters of Flight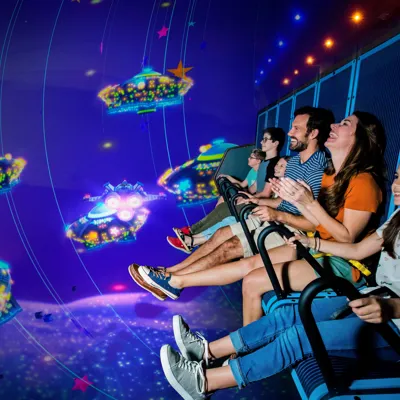 Scandinavia's first ride of its kind
Sit down in Emmet's couch and get sucked into THE LEGO® MOVIE™ universe with all senses as you float in front of a giant screen in Scandinavia's first ride of its kind in Emmet's Flying Adventure - Masters of Flight.
Buy tickets
Ride restrictions guide
Require the presence of an accompanying adult for children under 130 cm
Pram or pushchair is not permitted access.
Not permitted for pregnant women and guests with heart, neck, back or other health problems
Plan your visit
Guests hover around as they watch a captivating movie on a huge 180 degree screen. The effects have also been turned up, so you can expect wind in your hair, mist and scents in the new amusement.
Did you know?
Emmet's Flying Adventure is the first ride of its kind in Scandinavia
You experience the LEGO® MOVIE ™ universe on a whopping 180 degrees screen
Lots of effects in Emmet's Flying Adventure. You can expect wind in your hair, mist and scents in the new amusement