Ghost – The Haunted House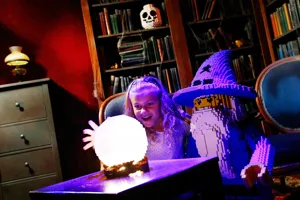 Take a fun and scary ride – if you dare!
Take a deep breath and sneak inside The Haunted House, crawling with vampires, ghosts, monsters, and all sorts of creepy-crawlies. On your way through the scary house, you can chase ghosts in the enchanted mirror maze, but be careful not to get lost or die laughing on your way.
Buy tickets
Ride restrictions guide
Require the presence of an accompanying adult for children between 110-130 cm
Minimum height 130 cm without an adult
Not permitted for pregnant women and guests with heart, neck, back or other health problems
Guest with large waist circumferences may find the amount of space restrictive
Plan your visit
Ghost – The Haunted House is located in LEGOREDO® Town