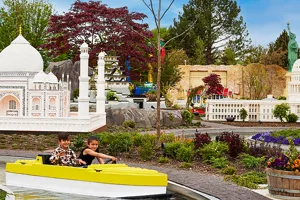 See the world from LEGO® Mini Boats
See the world in LEGOLAND®. Jump into a LEGO® Mini Boats and take a quiet boat trip past the world's many wonderful buildings – built out of LEGO® bricks, of course. Along the way you will encounter the Statue of Liberty, London Eye and Sydney Opera House. A delightful attraction for one and all.
Buy tickets
Ride restrictions guide
Require the presence of an accompanying adult for children under 100 cm
Plan your visit
LEGO® Mini Boats are located in Miniland
Did you know?
In LEGO® Mini Boats you can see great places in the world in LEGOLAND® made of LEGO® bricks