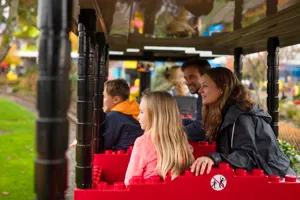 Train trip!
The experience begins as soon as the beautiful black steam engine rolls onto the platform: The train is a genuine LEGOLAND® classic, which transports you past beautiful LEGO® landscapes. You can spot animals in LEGO® Safari, zoom in on cowboys in LEGOREDO® Town and see lots of other fantastic attractions.
Buy tickets
Ride restrictions guide
Require the presence of an accompanying adult for younger children
Plan your visit
LEGO® Tog is located in Miniland
Did you know?
The train is a genuine LEGOLAND® classic