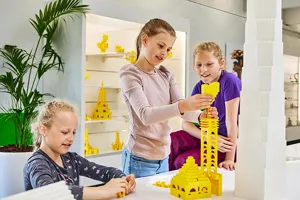 The world's coolest gallery
Step into the LEGOLAND® Gallery and be inspired and impressed. Here, you can build with the yellow LEGO® bricks and let yourself be inspired by the wildest and most fantastic models from LEGO fans all over the world. Could your LEGO model be among the exhibits on display?
Buy tickets
Plan your visit
LEGOLAND® Gallery is located in Brick Street
Did you know?
Your LEGO® model might among the exhibits on display