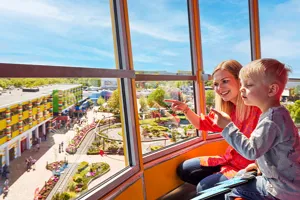 See LEGOLAND® from above
You simply can't miss LEGOTOP® – it is the tallest attraction in LEGOLAND® and a great experience for all the family.
Enjoy an amazing view of LEGOLAND. As you slowly rotate past Miniland, pay special attention of the view – it is like seeing the real world from a height of 720 metres. The reason for this is that Miniland is built to a scale of 1:20, so when you are 36 metres up, it is like viewing the ground from an altitude of 720 metres.
Buy tickets
Ride restrictions guide
Children under 90 cm must be accompanied by a responsible person
Plan your visit
LEGOTOP® is located in Miniland
Did you know?
LEGOTOP® takes you up to 36 meters in height
Important information
Children under 90 cm must be accompanied by a responsible person