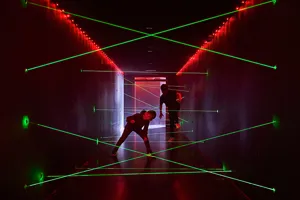 Are you agile as a ninja?
Lloyd sends you through the laser maze where you will need all your agility to avoid the 30 laser beams. To succeed, you must learn to weave in and out like a ninja. You can also see who is the fastest to get through the maze without being hit. Lloyd's Laser Maze exposes you to a whole new set of ninja challenges.
Lloyds Laser Maze is an unmanned activity. Duration: approx. 30 seconds.
Buy tickets
Ride restrictions guide
Not permitted for guests with walking disabilities and guests who are unable to hold on unassisted
Plan your visit
Lloyd's Laser Maze is located in LEGO® NINJAGO® World
Did you know?
Lloyd's Laser Maze exposes you to a whole new set of ninja challenges