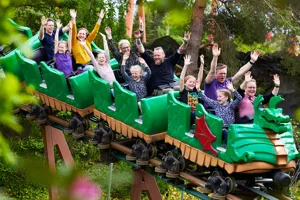 Can you escape the dragon?
Take a trip through the enchanted Royal Castle in a medieval world filled with excitement, mystery and a slightly spooky atmosphere. The ride takes you past the Wizard's workshop and all the way to the dragon's den. And a speedy one at that! Suddenly, things speed up and the ride ends with a hair-raising rollercoaster ride.
Buy tickets
Ride restrictions guide
Limited access for disabled guests
Require the presence of an accompanying adult for children between 100-120 cm
Minimum height 120 cm without an adult
Not permitted for pregnant women and guests with heart, neck, back or other health problems
Plan your visit
The Dragon is located in KNIGHTS' KINGDOM™
Did you know?
The ride takes you to the dragon's den