New in 2021
THE LEGO® MOVIE™ World
Good morning, master builder! Have you heard about LEGO® MOVIE™ World, the story of the year in LEGOLAND® in 2021? Emmet, Lucy and all the master builders are waiting for you.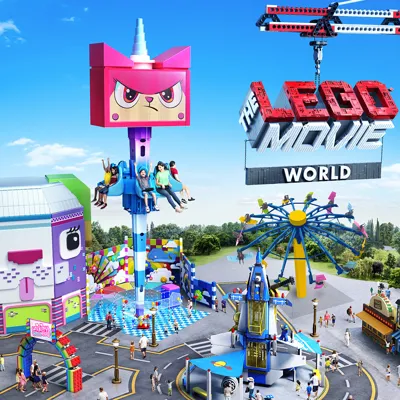 Good morning, master builder!
With your feet dangling from Emmet's couch, you will be sucked into the lifelike LEGO® MOVIE™ universe for an action-packed ride with lots of wild effects in the flying, cinematic attraction in Scandinavia's first flying theater Emmet's Flying Adventure - Masters of Flight.
Experience the thrilling sensation as you fall through the air in the new ride, where Unikitty from LEGO® Movie 2 ™ shows you her rainbow-coloured claws in a world without grumpy faces in Unikitty's Disco Drop.
Emmet, Lucy and Batman ™ take you on a breath-taking mission to fight the DUPLO® invasion from outer space in an interactive ride Apocalypseburg Sky Battle that brings out the artistic flyer in you. As a pilot in your own plane, the wildness comes from you; fly upside down, make loops and fight the invasion. It takes courage to restore peace.