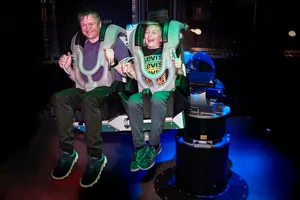 Are you a cool pilot?
The coolest pilot school in the world is right here in LEGOLAND in a huge hangar, and we've turned up the arctic atmosphere just for you. So if you're a test pilot who can keep cool, try out the Ice Pilots School's amazing robotic flight simulator.
Design your own plane ride using the touch screen. Head up, feet down or the other way round? You decide whether the ride is cool, super cool or mega cool.
Buy tickets
Ride restrictions guide
Limited access for disabled guests
Not permitted for pregnant women and guests with heart, neck, back or other health problems
Plan your visit
Ice Pilots School is located in Polar Land
Did you know?
Two people can take a ride at the same time