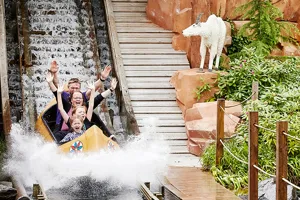 Unforgettable canoe ride and splash!
Go on an unforgettable canoe ride through the roaring whitewater rapids of the wilderness. Along the way you will meet wild LEGO® animals, including beavers, bears and rattlesnakes. Passing through three levels, the canoes end their journey at a roaring waterfall, where they plunge down, hitting the water at full speed with an almighty splash! LEGO Canoe is an exciting experience for children and their families.
Buy tickets
Ride restrictions guide
Require the presence of an accompanying adult for children between 100-120 cm
Minimum height 120 cm without an adult
Not permitted for pregnant women and guests with heart, neck, back or other health problems
Plan your visit
LEGO® Canoe is located in LEGOREDO® Town
Did you know?
After the ride, you can buy a photograph as a souvenir of your wild, wet trip in a canoe