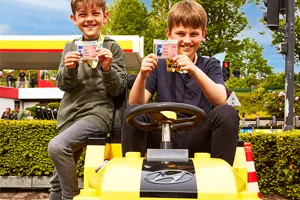 Take your first LEGOLAND® driver's license
At the Traffic School, children aged 6-13 can learn how to drive in traffic. You can fill up your car with petrol at the petrol pump or take the car for a wash in the carwash. And of course, you will get your very own LEGOLAND® driver's licence as proof that you now know more about traffic than most.
Buy tickets
Plan your visit
Traffic School is located in Miniland
Did you know?
Tickets for the Traffic School must be purchased separately - remember to make an appointment at the Traffic School as soon as you arrive in LEGOLAND. Reservations can only be made in the park and for the day of your visit.
Tickets may be sold out on busy days.