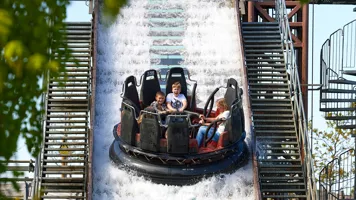 Waterfalls and sea spray!
Whizz down the river in great Viking fleets and meet the Midgard Serpent, ferocious LEGO® Vikings and other fascinating creatures along the way.
The spectators ashore can fire water volleys at the Viking fleets which will finally take an eight-metre water plunge.
Psst: Keep an eye on the doughty Viking who is helping you aboard the Viking ship: You may get a slap with his shield when you go aboard.
Ride restrictions guide
Require the presence of an accompanying adult for children between 115-130 cm
Minimum height 130 cm without an adult
Not permitted for pregnant women and guests with heart, neck, back or other health problems
Plan your visit
Vikings River Splash is located in KNIGHTS' KINGDOM™
Did you know?
Get ready for an eight-metre water plunge!