Pirate room
Ahoy, landlubber!
Go on a pirates' raid for priceless treasures, but beware! Soon you will be in a roaring cannon fight against other pirates if you do not remove the patch from your eye.
The pirates are coming!
You've found the treasure island, but you're not the only one! The pirates are right at your heels and if they get to the treasure first, you will walk the plank where deadly sharks are waiting to sink their teeth into you. Take up the fight against the pirates from the pirate ship, and make the boat rock in a roaring cannon fight for the priceless treasure.
Book now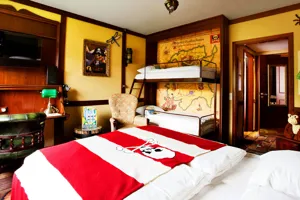 Experience the Pirate room
Explore the Pirate room in our virtual tour.